Call Us Anytime for Lock and Key Service
A locally-owned and operated business, Bay Locksmith offers the most trusted locksmith in Orange County, 24 hours a day, seven days a week, across Aliso Viejo, CA, Laguna Hills, Laguna Niguel, Laguna Woods, Mission Viejo, Irvine and the surrounding areas. As a professional locksmith who's undergone FBI screenings to ensure your safety, I'm ready to go the extra mile to tend to your lock and key needs. My extensive range of mobile emergency locksmith services includes commercial, residential, and automotive. Besides emergency lockouts, I can also rekey, repair, and install any type of lock and door hardware. Now installing smart locks!
If you need lockout service or any other locksmith work, please complete the contact form below or call (949) 842-6967.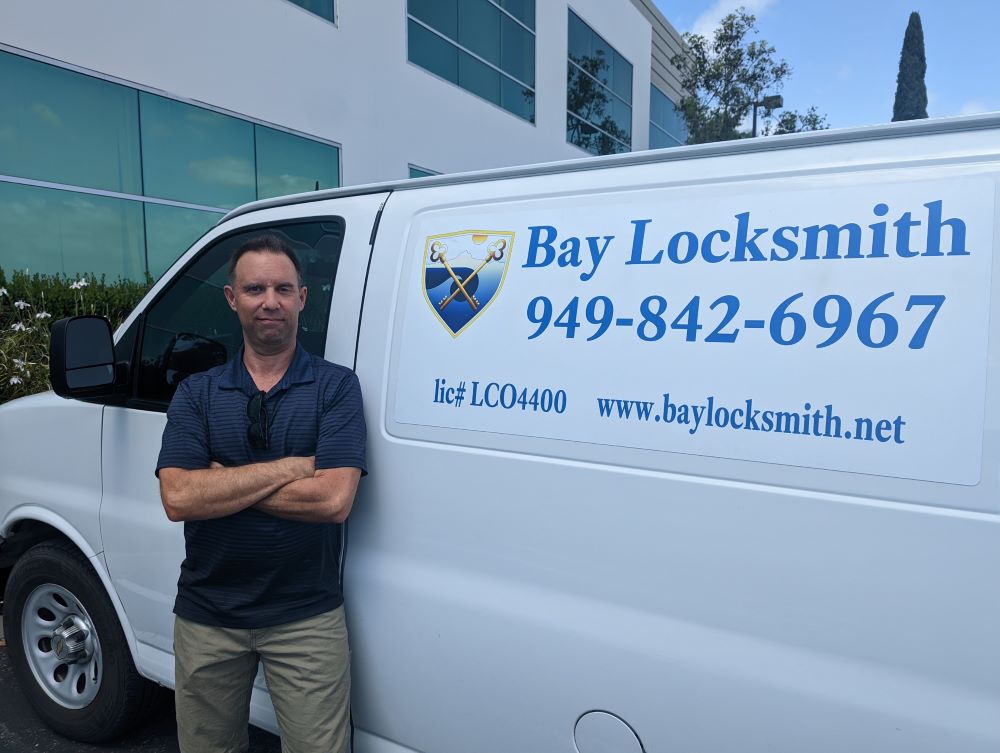 History
I have had some fun as a locksmith. First as an apprentice in 1995 for Bulger Safe and Lock in Seattle, pros all the way, they taught me the ropes. Cheers to Joe, Mike, and Ben. I worked several years there and came a time to move back south. I landed at Malibu Locksmith, and yep I got to see the stars. 007 gave me his sunglasses when I worked on his bright white gate. Spielberg gave me his Ficus tree. I moved on to having my own van at Santa Monica Lock. The best team father and son Mike and Blaine, I learned even more and was entrusted the master key to many great establishment even the Playboy Mansion. 2005 I moved to Dublin Ohio, and opened my own company Dublin Locksmith. Now I learned all operations of a locksmith business as sole proprietor. I am now sole proprietor of Bay Locksmith since 2008 and I provide all great service, with integrity, and peace of mind you can trust me with fixing and securing your property, and increasing your safety. The shield has two keys on it, one is mine, one is yours, to serve and protect.
Yours Truly,
Jabel Vollom
Bay Locksmith values the security of each of our customers. Our goal is to help you protect your family and safeguard your home or business against intruders. Our shield logo represents our commitment to our customers to defend your property and give you the keys to your safety!